DIGESTION is the process of breaking down of the complex food stuff, with the help of digestive juices, in to simple constituents facilitating them to get absorbed and assimilated by the body. The salivary glands, liver, gall bladder and pancreas are developmentally associated with the alimentary canal in order to secrete digestive juices.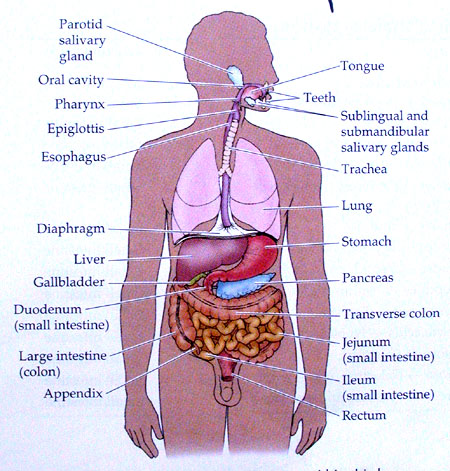 (Fig: GI tract - layers)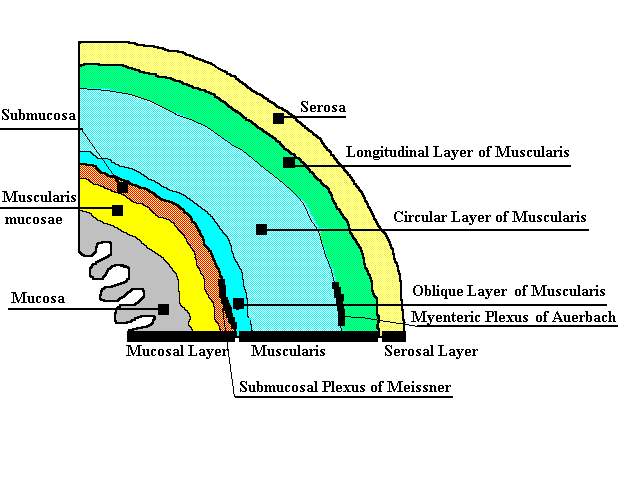 ALIMENTARY CANAL – COMPONENTS
OESOPHAGUS
· Extends from pharynx to cardiac orifice and is 2 cm in diameter.
· The mucosa is lined with stratified epithelium.
· The lowest 2-5 cm portion forms the cardiac sphincter.
· The upper end has oesophagal sphincter which has voluntary control.
· The lowest 2 cm portion lies below the diaphragm and has gastric mucosal lining with peritoneal covering as outermost layer.
· The rest of upper part has outermost fibrous tissue covering.
STOMACH
F Normally a J-shaped structure which continues from oesophagus through cardiac orifice and ends before duodenum through pyloric orifice.
F It has 3 parts: Fundus, Body and Pylorus.
F Fundus lies above the horizontal plane of cardiac orifice.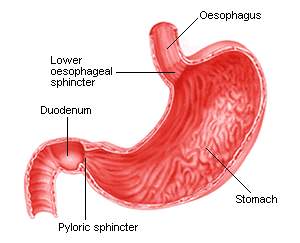 F Body has 2 curvartures. The lesser curvature extends from cardiac end to incisura angularis. Its greater curvature extends from fundus to pylorus.
F Pylorus is the pyloric antrum and pyloric canal which ends in pyloric orifice guarded by pyloric sphincter.
F The mucous layer has outer longitudinal, middle circular and inner oblique fibres.
F The inner mucous layer is incomplete and fuses with circular muscle fibres.
F The mucosa is lined with columnar epithelial cells and is has longitudinal folds (rugae) by the action of muscularis mucosae.
F The tubular gastric glands lie in these folds (about 35 million) which secrete gastric juice (HCl) and mucus.
F Mucus is also secreted by goblet cells which lines the gastric mucosa.
(Fig: Parietal cell)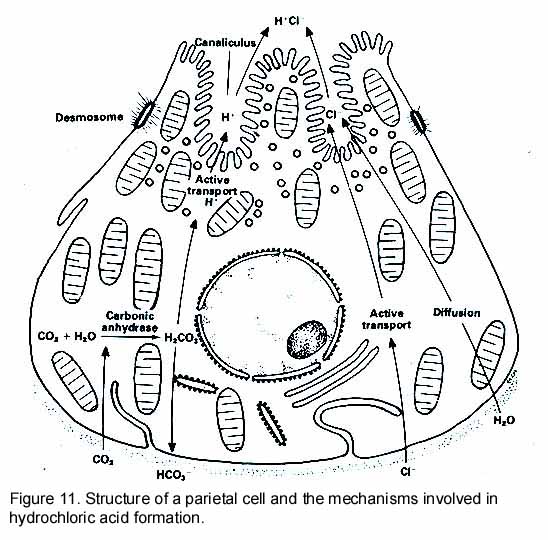 MECHANISMS OF GASTRIC ACID SECRETION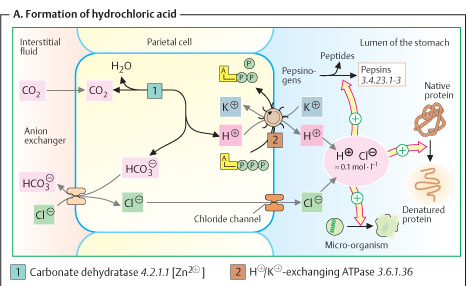 Gastric HCl secretion occurs through cephalic, gastric and intestinal phases. It can also be stimulated by GI hormones, histamine and Ach.
SMALL INTESTINE
· Extends from gastric pyloric orifice up to ileocolic junction which is guarded by ileocolic sphincter.
· It's about 6.5 m in length. The first 20-25 cm is duodenum. Then about 2/5th portion is called jejunum and 3/5th is called ileum.
· Duodenum and jejunum are concerned with digestion whereas; ileum mainly does absorption (due to villi).
· Alternating with villi at their bases are tubular intestinal glands called crypts of Lieberkuhn. These are lined with columnar epithelials which are continuous with lining of villi. The glands secrete intestinal juice.
· Luminal border of columnar absorbing cells are covered by about 600 μvilli to increase the absorptive area and forms the brush border.
· The mucosa is also supplied with lymphoid tissue present singly or in aggregates (Payer's patches).
· Appendix and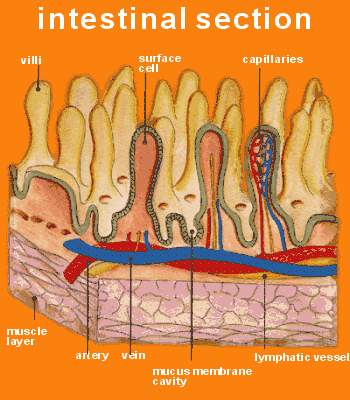 caecum are very rich in lymphoid ti
ssue.
· Villus: It has central lymph vessel (lacteal) which ends blindly near tip of villus. A submucosa coat with large blood capillary network surrounds this lacteal. Muscularis mucosae are responsible for contractions and movement of villi, especially during absorption. Each villus is lined with tall columnar cells and some goblet cells.
· Intestinal glands have 4 types of cells: 1) Enterocytes – which are columnar epithelials which synthesize digestive enzymes and also help in absorption. 2) Goblet cells – secrete mucus. 3) Paneth cells – specialized cells that contain acidophilic granules. Their function is largely unknown, but known to secrete some glycoproteins, some Igs and lysozyme. 4) Enterochromaffin or Argentaffine cells – probably either secrete serotonin or synthesize its precursor (i.e., 5-OH-Trp), which is a local hormone involved in intestinal motility and secretion.
· Endocrine: In addition, intestinal mucosa also contains endocrine cells which secrete several GI hormones (secretin, CCK, VIP, GIP and others).
LARGE INTESTINE
§ It's about 1.5 m in length and has a larger diameter than small intestine.
§ Extends from ileocolic junction to anus.
§ It is divided to 10 different parts, viz., (in order) caecum (and appendix), ascending colon, hepatic flexure, transverse colon, splenic flexure, desending colon, iliac colon, sigmoid colon, rectum and anus.
§ Sigmoid colon anal sphincter is an involuntary smooth muscle, whereas, external anal sphincter at the lower end is a voluntary smooth muscle.
§ Vagus nerve: Caecum, ascending and transverse colon. Para sympathetic (through pelvic nerve) for rest of the parts.
§ It has peritoneal covering and thick muscular layer.
§ The longitudinal muscle fibres have 3 bands forming taenia coli, while the circular fibres form thickened pouching patches (dilatations).
§ Mucosa does not have villi, but has a rich supply of goblet cells.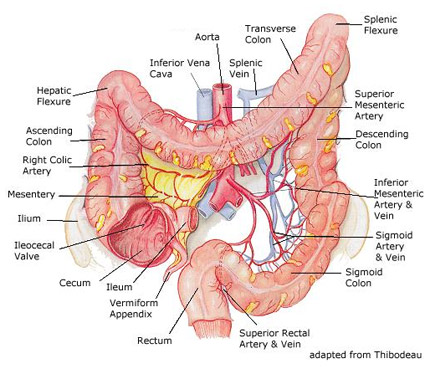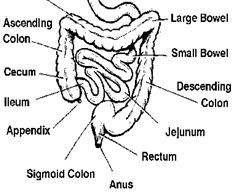 COMPLEMENTARY COMPONENTS (GLANDS) FOR DIGESTIVE SYSTEM
SALIVARY GLANDS They secrete saliva. The 3 pairs of salivary glands are:-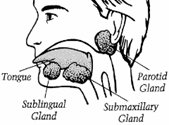 1. Submaxillary (Submandibular) – Opens through Wharton duct at side of frenum of tongue at the floor of mouth. They have both serous and mucus cells and thus called mixed salivary glands. They secrete 70% of saliva.
2. Parotid – Open through Stenson's duct to opposite the second upper molar tooth. They have serous cells only. They secrete 25% of saliva.
3. Sublingual – Open through (10-12) ducts of Rivinus and Bartholins at side of frenum at the floor of mouth. They have mucus cells only. They secrete 5% of saliva.
The serous cells secrete thin, watery enzyme-rich saliva, while mucus cells secrete thick, viscid, mucus-rich saliva.
FUNCTIONS OF SALIVA
1. Preparation of food for swallowing.
2. Helps articulation/speech.
3. Solvent action for appreciation of taste.
4. Enzymatic digestion.
5. Cleansing action for oral hygiene.
6. Regulation of water balance and buffering.
7. Excretory and temperature-regulating.
8. Diluent and cooling effect.
9. Middle ear pressure adjustment.
PANCREAS It secretes pancreatic juice.
· It is an elongated racemose gland situated at posterior wall of abdomen.
· It has 3 parts, viz., head (towards duodenum), body and tail.
· The cells form alveoli and secrete pancreatic juice.
· Pancreatic cells have nucleus in outer 1/3rd and enzyme-secreting granules in inner 2/3rd parts. They also have Carbonic Anhydrase.
· Apart from its exocrine function, pancreas also has endocrine cells, viz., α-cells (glucagon) and β-cells (insulin) that are present in Islet of Langerhans in between the alveoli.
ACTIVATION AND FUNCTIONS OF PANCREATIC ENZYMES
Pancreatic enzymes can act only in an alkaline medium. Its high HCO3- content neutralizes the acidic chime which enters the duodenum and raises its pH to about 6-7. This also ensures alkalinity of intestine. Enzymes of pancreatic juice are produced and secreted by acinar cells by 3 processes:
§ Enzyme synthesis in granular ER
§ Storage of enzyme in zymogen form by Golgi apparatus
§ Discharge of zymogens by reverse pinocytosis (exocytosis) on appropriate stimuli
Pancreatic amylase is activated by cl-. Some lipases are activated by bile salts.
| | | | |
| --- | --- | --- | --- |
| ENZYMES | SUBSTRATE | PRODUCTS | COMMENTS |
| Pancreatic amylase | Starch, glycogen, amylopectins and dextrins | Maltose | Similar to salivary amylase, but can act on uncooked starch. Very potent than SA. |
| Trypsin (endopeptidase) | Proteins, peptones, peptides | Ultimately amino acids | Acts at COO- end of basic aminoacids (KR) |
| Chymotrypsin (endopeptidase) | Proteins, peptones, peptides | Ultimately amino acids | Acts at COO- end of aromatic aminoacids (WYF) |
| Elastase (endopeptidase) | Elastin | Amino acids | Acts at COO- end of aliphatic aminoacids (LIV) |
| Carboxypeptidase-A (exopeptidase) | Proteins & peptides | Amino acids | Acts at COO- end of aromatic aminoacids (WYF) |
| Carboxypeptidase-B (exopeptidase) | Proteins & peptides | Amino acids | Acts at COO- end of basic aminoacids (KR) |
| RNase & DNase | RNA and DNA | Nucleotides | - |
| Colipase | - | - | Acts as coenzyme for pancreatic lipase by binding to its COO- end and favours hydrolysis of emulsified fats |
| Pancreatic lipase | Neutral and LFA | MAG, DAG, FA and glycerol | Some are activated by bile salts |
| Cholesterol ester hydrolase | Cholesteryl esters | Cholesterol and FFA | - |
| Phospholipase-A | Phospholipids | Lysophospholipids and FFA | PL like PL-D, PL-C, PL-A1 and PL-A2 acts site-specifically on PLs |
Pancreatic secretions also occur through 3 phases, viz., cephalic, gastric and intestinal phase.
LIVER One of the vital organs of the body essential for metabolic and physiologic activities of the system. It is the largest gland of our system and weighs about 1.5 kg. It is bilobed, reddish-brown in colour, highly vascular. Divided in to right and left lobes.
§ Liver has many lobes which are further divided in to lobules.
§ Each lobule has central intra-lobular vein and many radiating rows of polygonal hepatic cells that are 85% parenchymatous.
§ In between the rows of cells there are spaces known as sinusoids or bile channels.
§ Kupffer cells (RES) are also found in sinusoids.
§ Interlobular portal vein + hepatic artery = Interlobular vein supplies the sinusoids.
§ Blood is taken away by sinusoids through intralobular vein, leading to sublobular vein and finally to hepatic vein.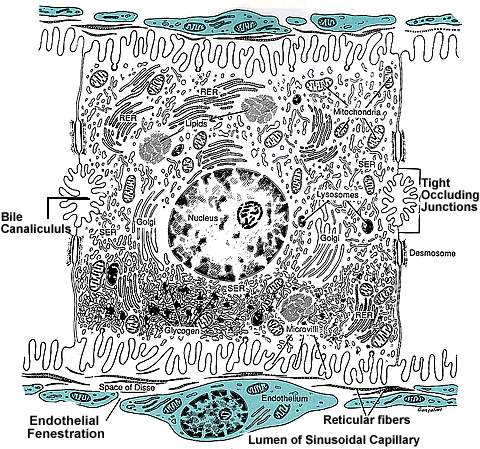 FUNCTIONS: Liver is the central organ for most of the metabolic functions. Hepatocytes are responsible for metabolic, secretory and excretory functions and are usually binucleated. It has both SER and RER, mitochondria (abundant), lysosomes and Golgi complex. The lumen of canaliculi shows numerous microvilli.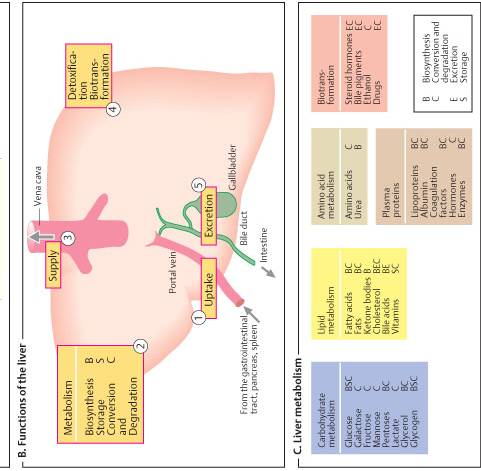 (Fig: Kupffer cells)
GALL BLADDER Situated below the liver and lined with columnar epithelium. Its storage capacity is 30 – 40 mL. It stores and concentrates the bile received from the liver via hepatic duct. Cystic duct from gall bladder joins the hepatic duct through common bile duct. This CBD then joins pancreatic duct to form ampulla of Vater, which is guarded by sphincter of Oddi.
v Vagus nerve contracts GB and relaxes sphincter of Oddi, while sympathetic have antagonistic effects.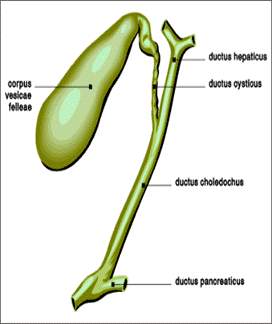 COMPOSITION OF DIGESTIVE JUICES
SALIVA

GASTRIC

PANCREATIC

INTESTINAL (SUCCUS ENTERICUS)

BILE

HEPATIC GB

DAILY SECRETION, L

1.2 – 1.5

2.0 – 3.7

1.2 – 1.5

1.0 – 2.0

0.5 – 1.0

0.5 – 1.0

PH

6.3 – 7.0

0.9 – 1.5

8.4

7.6

8.6

6.8 – 7.6

SP.GR.

1.002 – 1.008

1.006 – 1.009

1.008 – 1.030

1.008 – 1.010

1.010

1.025

APPEARANCE

Watery, opalescent

White, slightly viscid

NA

NA

Clear, viscid, Y/O coloured

TASTE

Tasteless

Sour

NA

NA

Bitter

H2O %

99.5

99.40 – 99.45

98.5

98.4

97.5

89

INORGANIC

0.2% (Na, K, Cl, NaHCO3, NaH2PO4, CaCO3, Ca3(PO4)2, KSCN)

0.13% (Na, K, Cl, Ca, Mg, Ca3(PO4)2)

1% (Na, K, Cl, Ca, Mg, Ca3(PO4)2, NaHCO3, Na2CO3)

1% (Na, Cl, NaHCO3, Na2CO3)

0.8 (Cl, CO3, PO4 of Na, K and Ca, NaHCO3)

ORGANIC

0.3% (Mucin, albumin, globulin, α-amylase, lipase, ABO antigens)

0.42 – 0.46% (Mucin, Castle's intrinsic factor, lipase, pepsinogen, rennin), gastrin, neuropoietic factor

0.5% (mainly enzymes – see table – pg: 7)

0.6% (erepsin, nuclease, nucleosidase, nucleotidase, arginase, maltase, sucrose, lactase, lipase, enterokinase)

1.7 (Mucin, bile pigments, bile salts, cholesterol, lecithin, fats and fatty acids, no enzymes)

10.2 (same)

GASES

CO2, O2, N2

-

-

-

-

-

FLORA/CELLS

Epithelials, lymphocytes

Bac: up to 1,00,000/mL

-

Symbiotic bacteria

-

-
(NA – not available)
DIGESTION – THE PROCESSES
First of all, various types of movements, namely:-
1. mastication, deglutition (mouth)
2. peristalsis (esophagus)
3. tonic (fundus), peristalsis (pyloric)
4. antiperistalsis (duodenum)
5. segmentation, antiperistalsis, pendular, villous (small intestine)
6. peristalsis, antiperistalsis, rhythmic tonic movement, mass peristalsis (large intestine)
7. defecation (rectum)
are carried out in different parts of digestive tract, ensure the following functions:-
a) Convert food in to finer particles.
b) Help onward passage of food into alimentary canal.
c) Thorough mixing of food with juices and aid digestion.
d) Proper absorption of substances.
e) Maintain alimentary tract in active and normal condition and ensure active blood and lymph circulation.
f) Excrete waste products.
CARBOHYDRATES
| | | | |
| --- | --- | --- | --- |
| SUBSTRATE | PRODUCT | ENZYME | SITE OF ACTION |
| Sucrose | Glu + Fru | Pancreatic Sucrase | Stomach (some extent), villi – brush border |
| Maltose | 2 glu | Pancreatic Maltase | Villi – brush border |
| Lactose | Glu + Gal | Pancreatic Lactase | Villi – brush border |
| Starch (ref practical) | Maltose units | Salivary α-amylase (can act only on boiled starch) | Mouth |
| Starch | Maltose units | Pancreatic α-amylase (act on both boiled and unboiled starch) | Small intestine |
| Cellulose | Cannot be digested | - | Acts as fibre only |
[NOTE: Pancreatic amylase is absent in infants up to 6 months of age. A very small amount of cellulose is digested by intestinal flora. These bacteria also give us folate, biotin and vit-K]
PROTEINS (refer: table on pg: 7)
FATS
| | | | |
| --- | --- | --- | --- |
| SUBSTRATE | PRODUCT | ENZYME | SITE OF ACTION |
| Fats | FA + glycerol | Salivary lipase | Mouth (not significant) |
| Fats | FA + glycerol | Gastric lipase | Stomach (insignificant in adults, but, useful in infants) |
| Fats | FA + glycerol | Pancreatic lipase (steapsin) | Small intestine (stepwise breakdown of TG) |
| Phospholipids | FA, PO42-, serine, ethanolamine, choline and glycerol | Phospholipases | Succus entericus (small intestine) |
| Cholesteryl esters, cholesterol | FA + cholesterol | Esterases | Succus entericus (small intestine) |
| Neutral fats | FA + glycerol | Hydrolysis (no enzyme) | Small intestine (stepwise breakdown of TG) |
| Fats | FA + glycerol | Intestinal lipase | Small intestine (stepwise breakdown of TG), if any fats escape previous secretions |
ABSORPTION – THE PROCESSES
It is the process by which H2O, minerals, vitamins and end products of digestion, etc., are absorbed through alimentary mucosa (especially small intestine – 5 x 106 villi – surface area = 10 m2) in to blood either directly or via lymph vessels.
v Fats – enter lymph vessels (lacteals) first – lymph to blood later.
v Other substances – enter hepatic portal circulation.
CARBOHYDRATES: Absorbed as monosaccharides through diffusion, filtration, etc.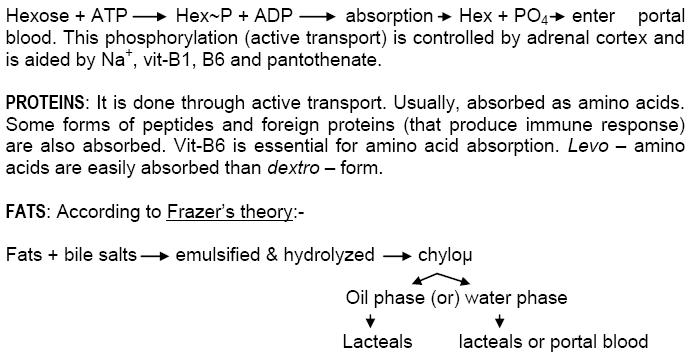 § The chylo΅ enter the epithelials through villi brush borders by pinocytosis.
§ The LFAs gets re-esterified in epithelials, with glycerol to form TGs which enter lacteals.
§ The SFAs (hydrophilic) remain as such and enter portal blood directly.
ROLE OF BILE SALTS IN DIGESTION & ABSORPTION OF FATS
DEFECATION
The sensation to defecate arises with the entry of fecal matter in to rectum, which is usually empty. It is also caused by gastro – colic reflex after meals. This process can be voluntarily controlled to some extent. The time and frequency of act is more or less a matter of habit.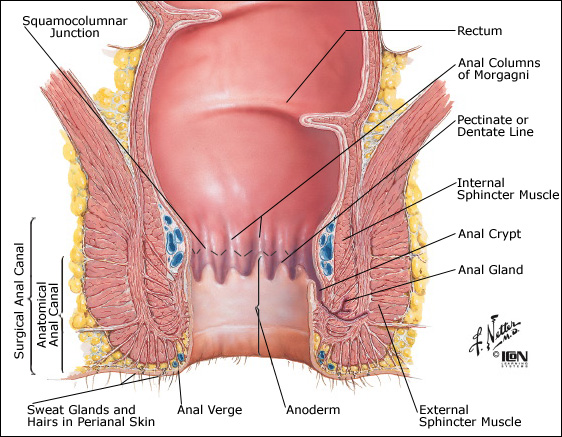 MECHANISM OF DEFECATION
1. Rectal distension due to presence of feces stimulates the reflex action.
2. The p-sympathetic efferents cause contraction of rectal wall and relaxation of anal sphincters.
3. At the same time, voluntary straining complex (VSC) occurs, which may be explained as follows.
4. Deep breath causes thoracic diaphragm to descent (lowering).
5. This pushes the abdominal organs down.
6. Breath held temporarily and glottis closed.
7. Contraction of abdominal muscles.
8. VSC along with peristalsis of colon and rectum causes expulsion of feces.
9. The same applies for excretion of urine from urinary bladder.
| | |
| --- | --- |
| H2O | 65% |
| Solids | 35% |
| Inorganic N2 | 15% |
| Ether – soluble substances | 15% |
| Nitrogenous part | 5% |
FECES – COMPOSITION: Feces are constituted by undigested remains of food, juices and other wastes. In addition to epithelials and bacteria, it has:-
GASTRO-INTESTINAL HORMONES (GI HORMONES)
F More than a dozen peptides with unique actions have been isolated from GI tissues. Some of these have paracrine actions and others act as neurocrines.
F Based on amino acid sequence and functional similarity, these can be classified under 2 families, viz., Gastrin family (gastrin and CCK) and Secretin family (secretin, glucagon, GIP, VIP, glicentin).
F 6 different receptors on pancreatic acinar cells have been identified to which GI hormones bind. They are:-
1. mAchR
2. Gastrin-CCK receptor
3. Bombesin and related peptides receptor
4. Physalaemin-substance P receptor
5. Secretin and VIP receptor
6. Cholera toxin receptor
F Class 1 to 4, act through Ca2+ - IP3 pathway, whereas, 5 and 6 act through cAMP.
| | | |
| --- | --- | --- |
| HORMONE | LOCATION | ACTION |
| Gastrin | Gastric antrum, duodenum | Gastric HCl and pepsin secretion |
| Cholecystokinin (CCK) | Duodenum, jejunum | Pancreatic amylase secretion |
| Secretin | Duodenum, jejunum | Pancreatic HCO3‑ secretion |
| Gastric inhibitory polypeptide (GIP) | Small intestine | ^ glucose-mediated insulin release, Θ gastric HCl secretion |
| Vasoactive intestinal polypeptide (VIP) | Pancreas | Smooth muscle relaxation, ^ Pancreatic HCO3- secretion |
| Motilin | Small intestine | Initiates interdigestive intestinal motility |
| Somatostatin | Stomach, duodenum, pancreas | Numerous Θ tory effects |
| Pancreatic polypeptide (PP) | Pancreas | Θ Pancreatic HCO3- and protein secretion |
| Enkephalins | Stomach, duodenum, GB | Opiate-like action |
| Substance-P | Entire GI tract | Not well defined |
| Bombesin-like immunoreactivity (BLI) | Stomach, duodenum | Stimulates gastrin and CCK release |
| Neurotensin | Ileum | Not well defined |
| Enteroglucagon | Pancreas, small intestine | Not well defined |